Welcome to Part 2 of my second annualish Win Totals Over/Under Prediction article where I give my abridged preview of each team. Part 1 can be found here. The over/under numbers that I'm using come from the Vegas betting totals for NBA wins. My picks (over or under the listed win total) are what my bet would be whether each team wins more or less than the given amount of wins listed by Vegas.
Memphis Grizzlies – 41.5
2020-21 Record: 38-34
The Grizzlies are an all-around solid basketball team, and I can understand having big hopes for the core of Ja Morant, Jaren Jackson Jr., Brandon Clarke, Desmond Bane, and De'Anthony Melton. All of them are under 25 and have the potential to develop into one of the best groups in the league. The oldest players on their whole roster are Steven Adams and Kyle Anderson, which gives them one of the youngest rotations in the NBA. The only issue with this roster is that everyone is not quite ready for the role they're needed in. Ja Morant is great, but can't carry a team yet. Brooks and Jackson are good players, but neither is really up to being the 2nd option on a good team. Swapping Jonas Valančiūnas for Adams seems like a wash, but they'll miss that scoring threat. I like what the Grizzlies are doing, but don't see them making a big push this season without development across the board. That being said, they'll hit the over if they win at the same rate as last season. I think that's a fair expectation.
Memphis battles for a play-in spot and gets the over.
Miami Heat – 48.5
2020-21 Record: 40-32
The Heat had a disappointing follow-up to their NBA Finals run in the bubble, but they have retooled their roster and I think they're the 3rd best team in the East. Jimmy Butler seems like a terrible guy to spend time around, but he's still an incredible basketball player, and a true number 1 option. Bam Adebayo has continued to improve each season and is about as well-rounded of a basketball player as you can find. Miami bolstered their depth with Kyle Lowry, Victor Oladipo (on an absolute steal of a contract), Markieff Morris, and PJ Tucker. Another year of development for Tyler Herro and Duncan Robinson will be good. Coach Erik Spoelstra will have this team playing hard and I think they push to be included in the top of the East.
Miami back to 50 wins for the first time since LeBron's departure. Over.
Minnesota Timberwolves – 35.5
2020-21 Record: 23-49
Full disclosure: I'm 100% in on this team. Towns is the most underappreciated star in memory, D'Angelo Russell has looked explosive while healthy, and I love the the additions of Taurean Prince and Patrick Beverley to the roster. Naz Reid has shown he belongs in the league, and has brought a new facet to his game each season. Jaden McDaniels should be an All-Defense team candidate this season, and looks every bit the part of a good starting 3 and D wing. Malik Beasley has only played 50 games for the Wolves, but he's shot over 40% from deep on more than 8 (!!!!!) attempts per game – for reference, that's more made triples per game than Donovan Mitchell or Luka Dončić on a better percentage. The Wolves also have a young man by the name of Anthony Edwards – you may have heard of him. This team may not be elite, but they will be competing for a play-in spot, and I'm betting they make the playoffs.
EASY OVER.
New Orleans Pelicans – 39.5
2020-21 Record: 31-41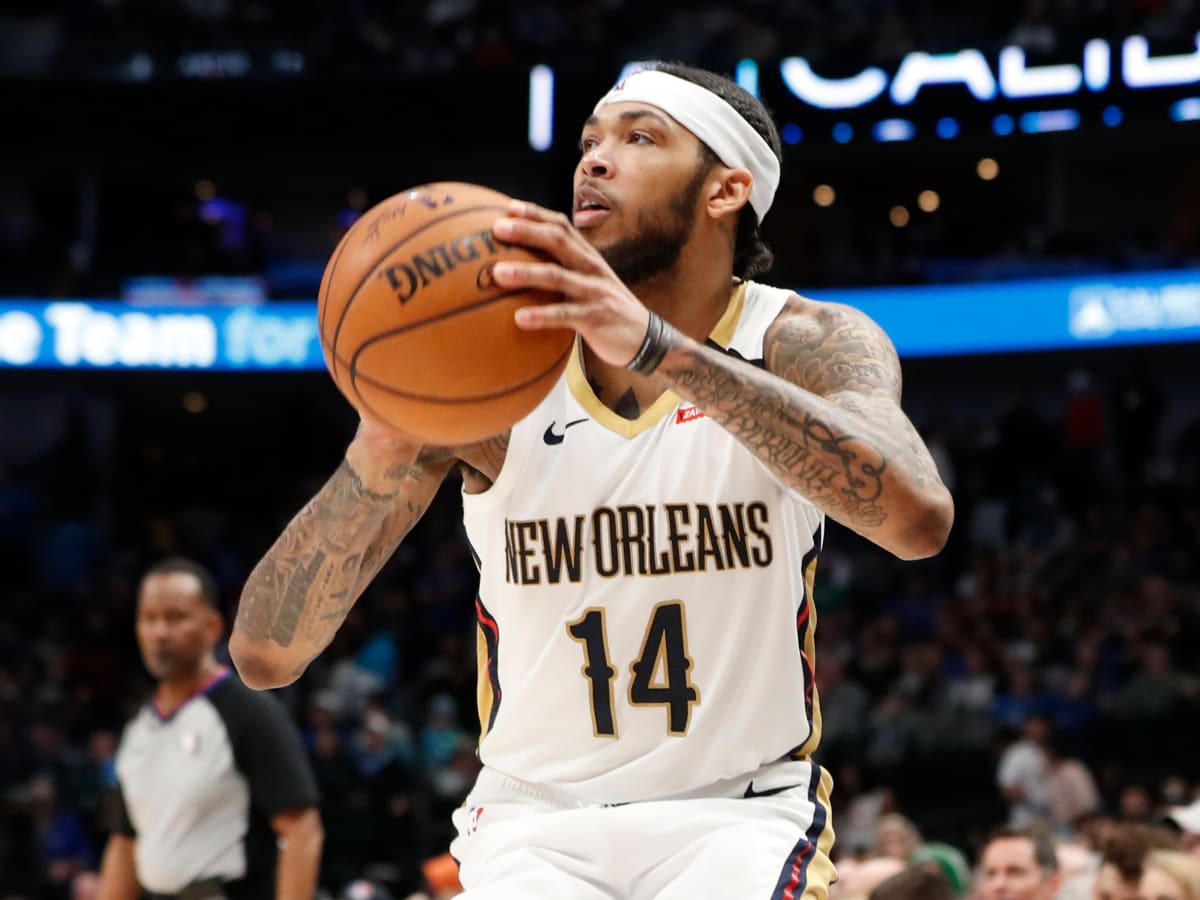 Giannis might be the modern-day Shaq, but Zion Williamson seems to have decided to take the Shaq offseason training program. I absolutely love fat Zion. Despite the discussion around whether he can sustain this weight and stay on the court (he can't), I feel like we're dismissing how much of a mismatch he is. When Zion plays, I expect this team to pull out some wins against teams you wouldn't expect. Still, he's likely to miss time every year, almost to the level of Joel Embiid where we should just expect him to only play half the games.
The Pelicans have been bad without him, and I don't think there's a lot of excitement around this roster, but I actually like the moves they've made on the fringes. Jonas Valančiūnas is still productive, Tomáš Satoranský is a sneaky good role player, and Devonte' Graham has shown flashes. That group around Brandon Ingram as the leader might not be as bad as we expect. Still, they play in a gauntlet of a Western Conference, and they have almost no depth. One or two injuries and they're in big trouble.
Too much has to go right for this team to remain competitive. Under.
New York Knicks – 41.5
2020-21 Record: 41-31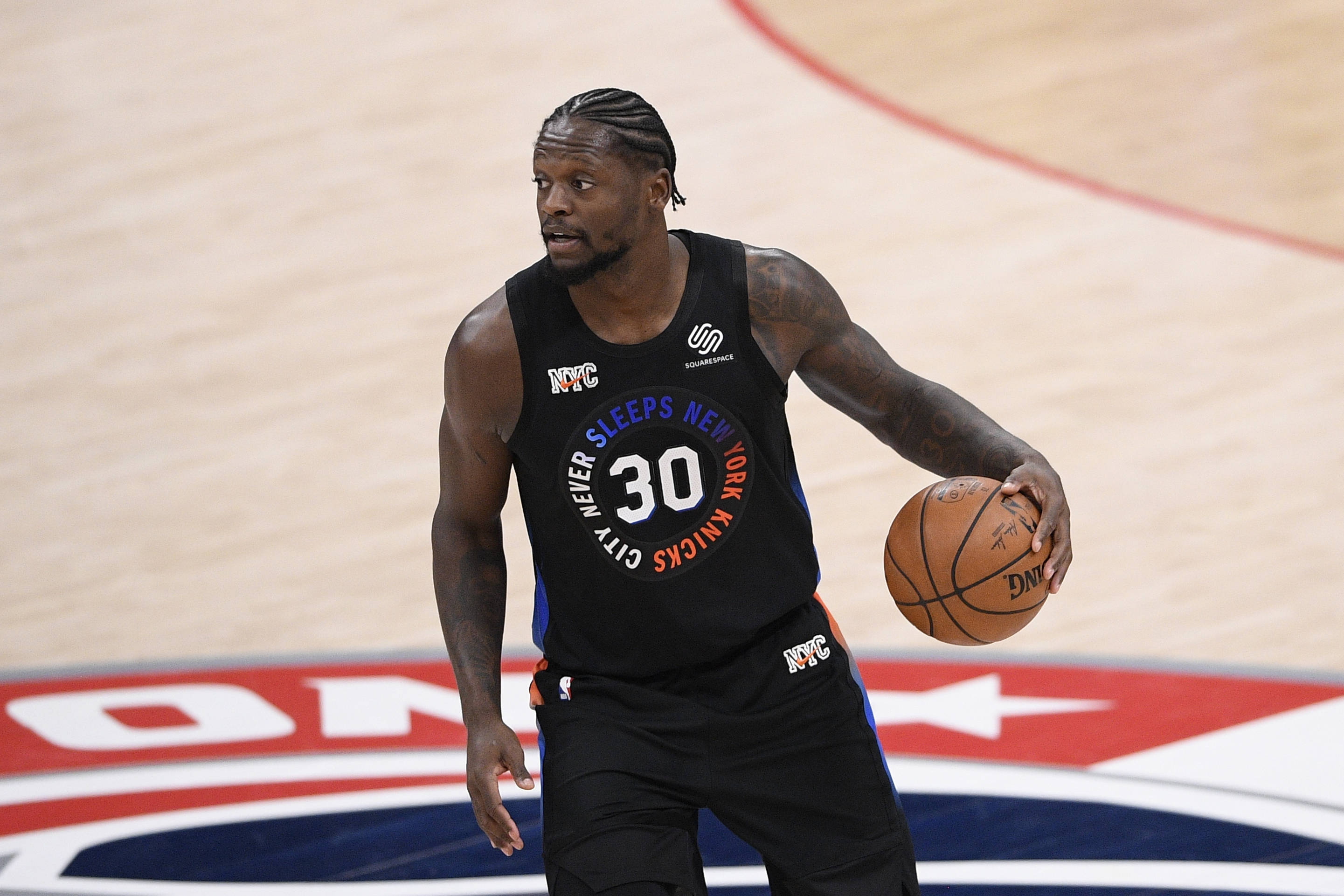 The Knicks are tough to gauge. They looked great last season, and bring back a roster that is mostly the same – they upgraded from Elfrid Payton to Kemba Walker, and replaced Reggie Bullock with Evan Fournier; the rest of the rotation should be the same. They can reasonably expect the continued development of RJ Barrett and Immanuel Quickley. I LOVE Mitchell Robinson. Maybe Obi Toppin can provide… anything? Julius Randle looks the part of a star, if not quite to the point where you can be happy with him as your top option. On the one hand, they won 41 games in last year's shortened season, so it stands to reason that they should be well over that mark this season. On the other hand, it's the Knicks. Always tough to believe in a franchise that continually shoots itself in the foot.
James Dolan is still in charge, so I'm going to need the Knicks to prove this for a year before I'm buying in. Under.
Oklahoma City Thunder – 23.5
2020-21 Record: 22-50
Outside of 2 role players (Derrick Favors and Mike Muscala), there are no players on the roster with more than 3 seasons of NBA experience. Shai Gilgeous-Alexander is the real deal, and I'm betting on Lu Dort to sustain a high level of play. The rest of the roster we either haven't really seen play or have seen flashes at best (Aleksej Pokusevski is more of an inside joke than a useful NBA player at this point). I expect to see a heavy learning curve. There is plenty of young talent that you could get yourself excited about, and 24 wins is a low total, but there's not much chance of this being a competitive team.
They fight with Cleveland, Detroit, Houston, and Orlando for bottom of the league. A sad under.
Orlando Magic – 22.5
2020-21 Record: 21-51
This Magic roster is one of the rare times I've found it difficult to get excited about anything on a team. Cole Anthony looks good? Jonathan Isaac is coming back? I guess you can hope for something special out of Jalen Suggs? They have veterans, but none I think are particularly noteworthy: Robin Lopez and Michael Carter-Williams play hard, E'Twaun Moore can shoot, and Markelle Fultz is… on the roster! (Seriously though, I'm glad he's still in the NBA). Gary Harris hasn't been the same for the past 3 seasons. The Mo's (Wagner and Bamba) can be frisky, but that's about it. Terrance Ross is probably their best player, which is not exactly something you should hang your hat on… Especially considering he's probably gone by the trade deadline.
22 games is all-time bad, but Orlando figures to be just that. Under.
Philadelphia 76ers – 50.5
2020-21 Record: 49-23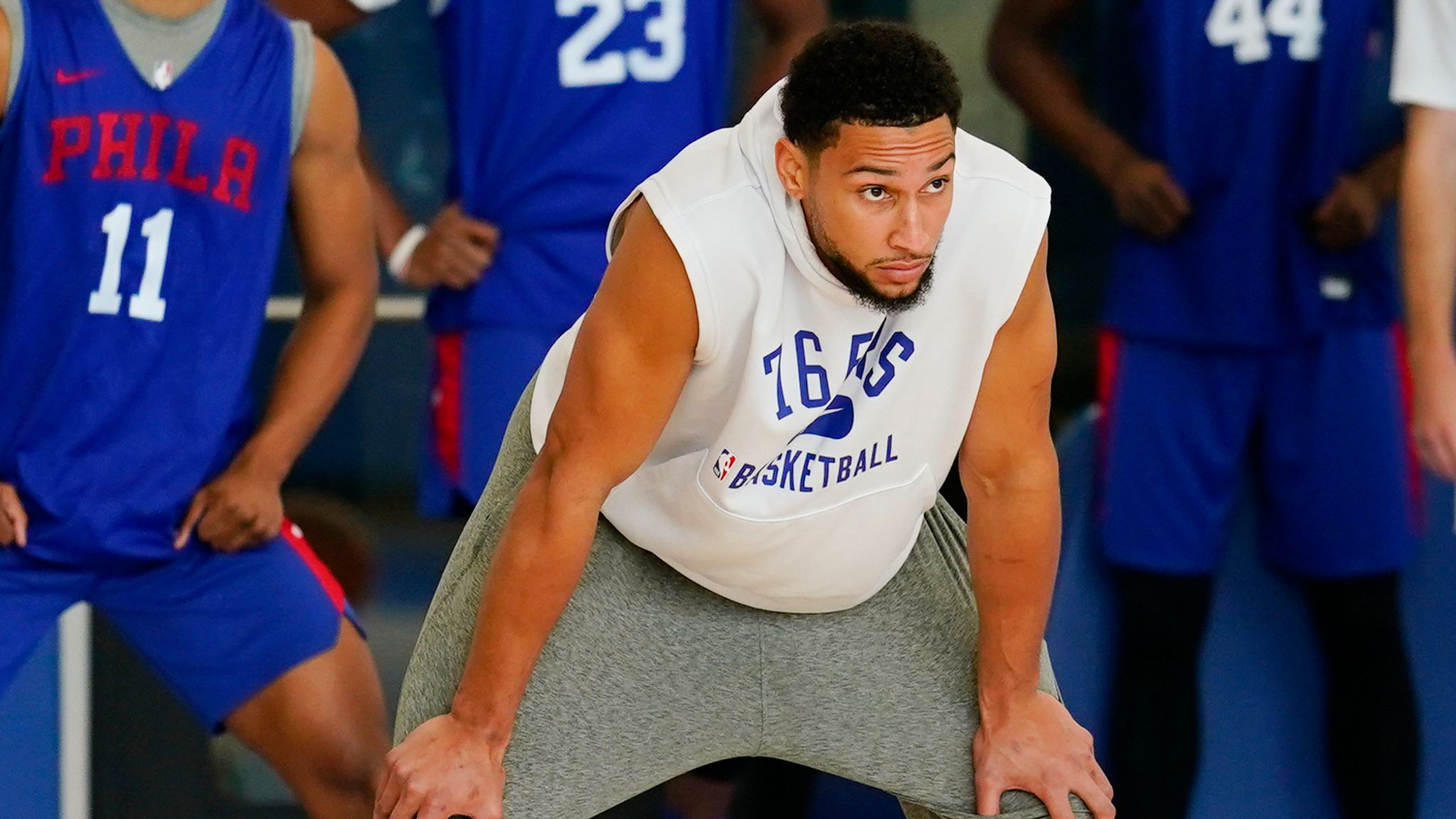 I'm so happy to see Ben Simmons tank his trade value in advance of the NBA season. This is karmic justice for the Philly fans who went after Minnesota during the Jimmy Butler saga. This is what happens when an entire city doesn't support their All-NBA star. Simmons is one of the 3 best 76ers players in the past 25 years, and the coach publicly talked shit about him immediately after their playoff exit. I don't even care if he gets traded to Minnesota (that's a lie – SEND HIM TO US!), I just hope Philadelphia gets pennies on the dollar for one of the best young players in the league. (Simmons is a three-time All-Star and he's 25, I mean what are we talking about here?).
It seems unlikely Simmons plays for the 76ers this season, and every day that goes by a trade is unlikely to immediately bolster this roster, given the reluctance of teams to trade for Simmons for full value. Still, the 76ers should be good regardless of the drama. If you could promise me 70 healthy Embiid games, the over would be a guarantee, in spite of losing Simmons. Given Embiid has played less than 55 games 5 times since being drafted and more than 55 games just twice, I'd say the chances are low that he's healthy for a full season. The rest of the roster is built around Embiid – Danny Green, Seth Curry, and Furkan Korkmaz provide shooting, but can't really create their own shot. Matisse Thybulle is an elite defender, but doesn't do much else. That just leaves Tobias Harris to carry an offense when Embiid is out, and that's not the recipe for a 50-win season.
They still compete, and can challenge anyone in the playoffs, but the Simmons drama costs them early. 47 wins and the under.
Phoenix Suns – 51.5
2020-21 Record: 51-21
Chris Paul is the best player in NBA history to never win an MVP. He's one of the 5 best point guards of all time, and he's not 3, 4, or 5. Taking this Suns team from a generous fringe playoff team to the NBA Finals is feat that maybe only a few other players in the entire NBA could have achieved, and he was 35 when he did it. Everywhere he goes, his team just functions on a higher level, and despite not yet winning a ring, nobody can take anything away from him. That being said, this team overachieved last season. They got extremely lucky with opponent injuries, and elite performances that feel like the exception rather than the rule. Is Cam Payne actually as good as he played? Can Mikal Bridges sustain that level of play? Is Jae Crowder's clock permanently turned back? I'm betting against it. Devin Booker still doesn't play defense, and as much as Chris Paul covers up for everyone, that's not a long-term approach. Regardless of the contract situation hanging over Deandre Ayton, I don't believe he has much more than he's shown.
Based on everything we've seen over the past year, this should be an over, and they don't have many real flaws. But I think the timing was right for all of the role players to ascend to new heights in ways that regress back to the norm.
Suns come back down to Earth and fight to avoid the play-in tournament. Under.
Portland Trail Blazers – 44.5
2020-21 Record: 40-32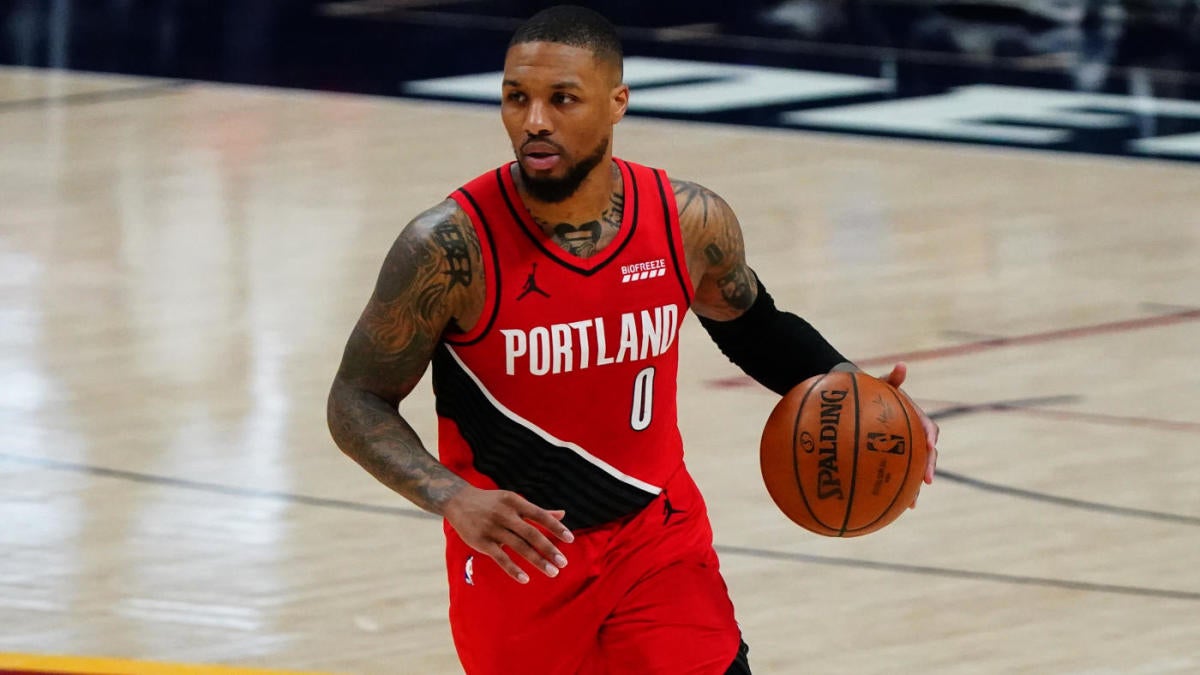 With all the recent trade talk surrounding Damian Lillard, I'm glad he decided to stay. I actually really like this roster, and think they can surprise some people this season. Portland's role players aren't the most exciting in the world, but they're solid, which is all you need when you're led by Lillard and CJ McCollum. Larry Nance has shown he's due for a bigger role, Tony Snell and Robert Covington are dependable 3 and D guys, and Cody Zeller is another capable big. If Jusuf Nurkić can come back strong, there's no reason this team can't be back to competing near the top of the West.
Blazers make the playoffs. Over.
Sacramento Kings – 36.5
2020-21 Record: 31-41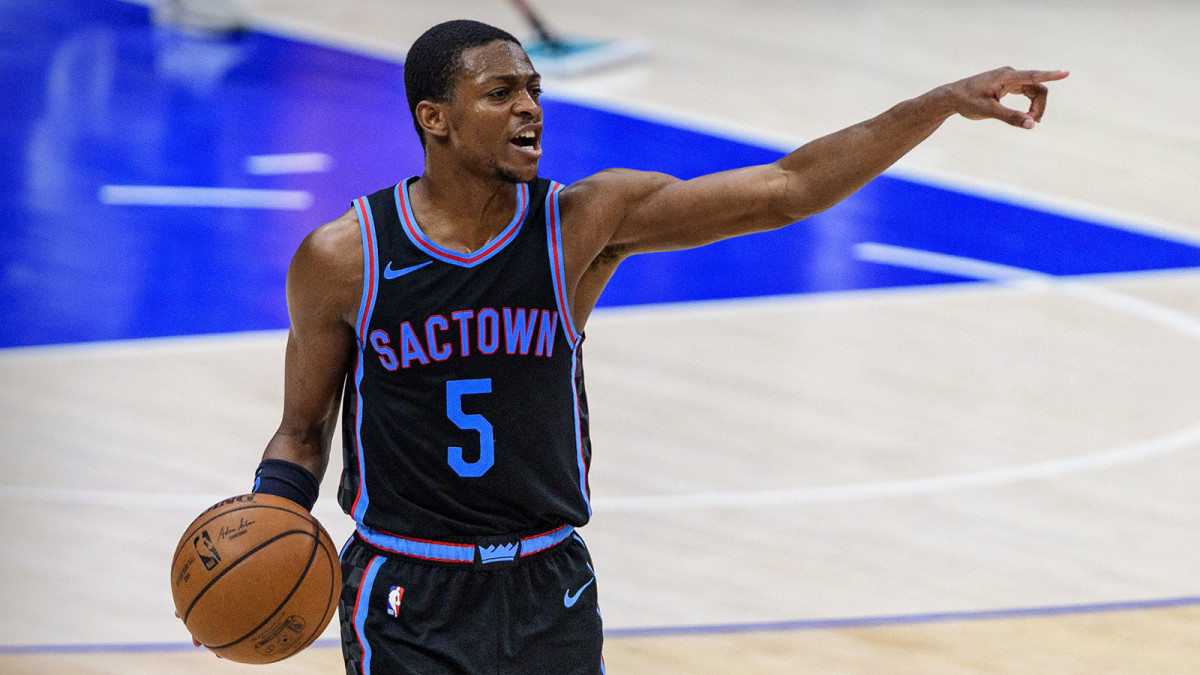 In 2018 I wrote, "As a Minnesota fan, I feel a kind of kinship with the Sacramento Kings. The Kings might be the only team that has repeatedly been more incompetent than the Timberwolves. Two tormented franchises who have nobody to blame but ownership and management for screwing up over and over again." Some things never change.
While the the Kings won't be at the bottom of the league, I'm not sure if they're quite ready to compete for a playoff spot yet, either. De'Aaron Fox is one of the most exciting players in the league, and I expect him to be in the All-Star game for years to come. He's surrounded by a group of competent veterans, and Tyrese Haliburton showed a maturity beyond his years last season. Still, Fox isn't quite good enough to lead a bad team to anywhere but mediocrity. I think they'll keep a lot of games competitive, but ultimately don't make much noise.
33 wins and the under.
San Antonio Spurs – 28.5
2020-21 Record: 33-39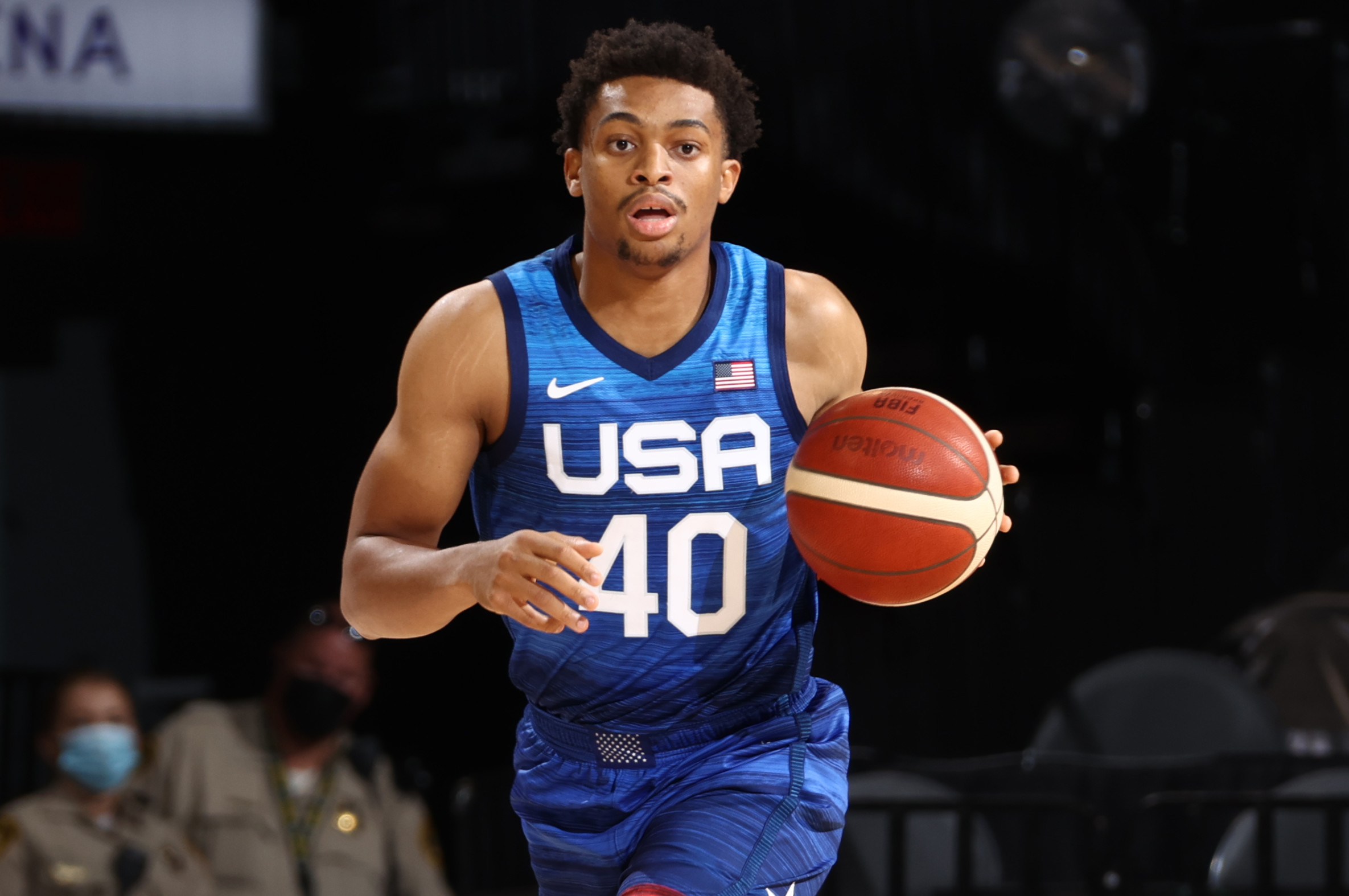 I had to double check the number on this one because I don't understand why their over/under is set within 1 game of the Houston Rockets, and 8 games lower than the Kings. I must be missing something. They lost DeMar DeRozan and Patty Mills (the last holdover from the championship regime), but it's still the Spurs, and they still bring back 4 starters and the vast majority of their role players, all who have improved each season. Plus, Olympic superstar Keldon Johnson! In all seriousness, I thought this number would be closer to 34.5 and I think I'd still be tempted with the over. Maybe I'm buying into the mythology of Greg Popovich, but I don't see how this team doesn't win 30 games.
Over.
Toronto Rapters – 35.5
2020-21 Record: 27-45
I feel for the Toronto fans who lost Kyle Lowry – that's a tough situation, but probably a necessary loss given the roster construction. Pascal Siakam is the new leader of the team, OG Anunoby provides toughness and grit, and Fred VanVleet can play the Kyle Lowry imitation well enough to not see a huge dropoff. The pieces are still there for this to be a successful team, but losing Kyle Lowry is taking the heart and soul from this team. When you lose the driving force behind your team's identity, the results are rarely favorable. I hope this prediction looks stupid in retrospect, but I think the Raptors are closer to blowing it up than competing for a playoff spot.
Under.
Utah Jazz – 52.5
2020-21 Record: 52-20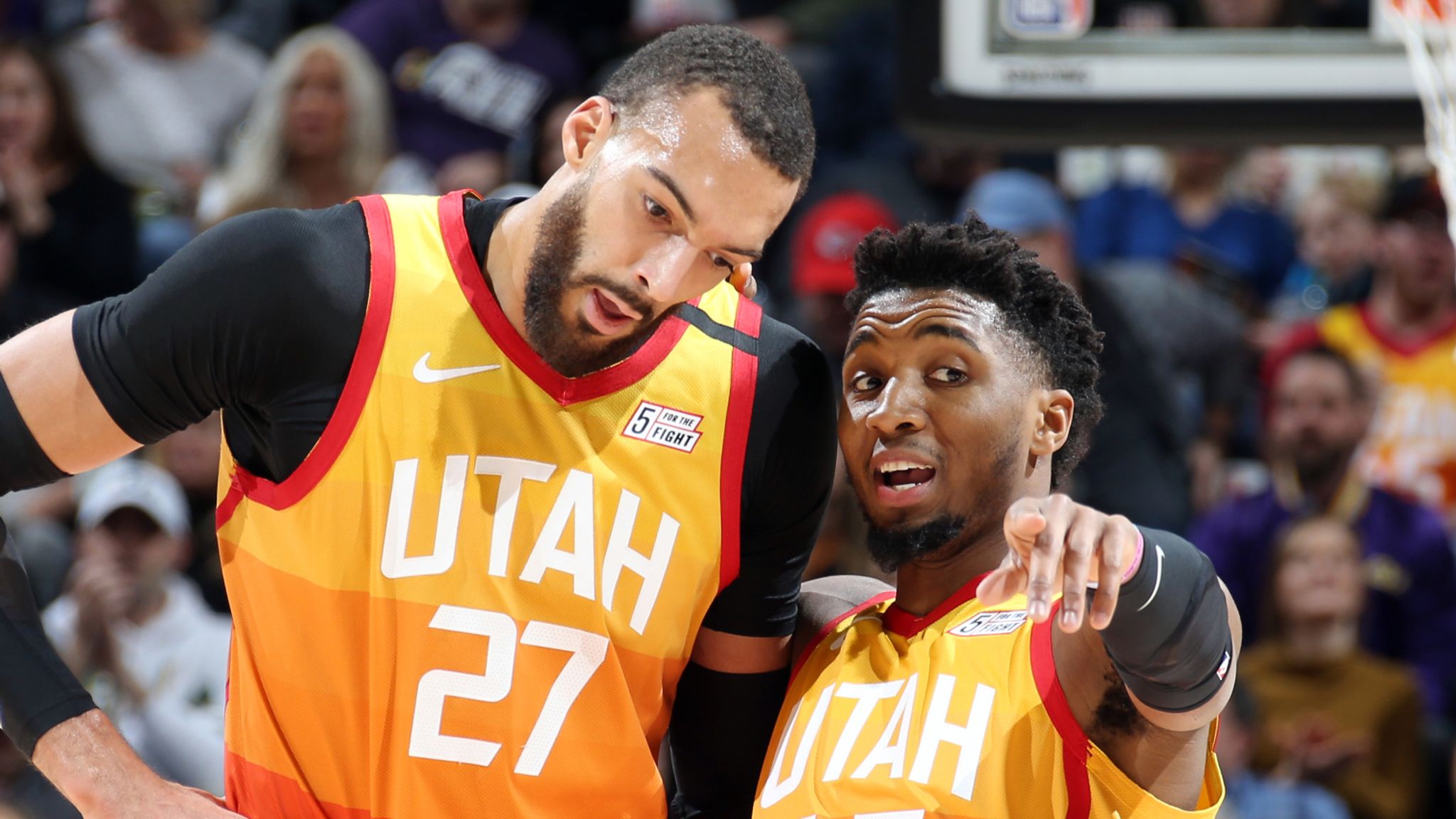 The Jazz are a very good defensive team, and have enough weapons around Donovan Mitchell to make them dangerous offensively. They also brought in Hassan Whiteside, who should give their defense a similar look when Gobert sits. Quin Snyder is one of the best coaches in the league, and Utah always seems ready to compete. I'm not sure they have enough firepower to make a playoff run, but they're built to win a lot of games. I initially had the Jazz as an easy under, but the more I think about it, the more I see this team continuing to improve. They remind me a bit of the Bucks-lite in the West. They don't have a Giannis (nobody does), but they have a solid 8 or 9 man rotation that can carry a good team to a lot of wins in the regular season.
Not quite a contender, but they win enough to put them over.
Washington Wizards – 33.5
2020-21 Record: 34-38
This line seems to come with the Vegas expectation that Bradley Beal will be traded before the end of the year. Otherwise, I don't understand it. The Wizards won 34 games in the shortened season, and the line for a full season is set below that? Sure, the Wizards aren't very good, but they aren't terrible either. Dāvis Bertāns is one of the most underappreciated players in the NBA. He's legitimately a flamethrower, and has no weaknesses to his game. He's not elite defensively, but he works hard and is a smart defender. Thomas Bryant is reliable and consistent. They signed Spencer Dinwiddie, Kyle Kuzma, and Montrezl Harrell, got rid of Westbrook, and have another year of development for Rui Hachimura and Deni Avdija. I think this team will be better than last season, up until Beal gets traded.
Should still be enough for the over.